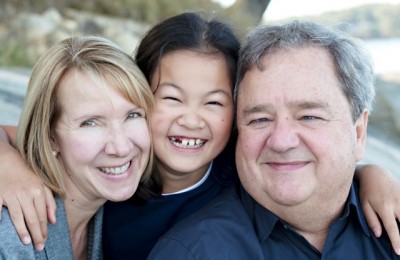 One of the most often asked questions we get here at the inn is "How did you decide to become innkeepers and why Freeport?"  The decision to become innkeepers came about over a number of years.  As with many, we were part of the corporate work world for many years.  We both traveled a great deal for work, often passing each other in airports and having a quick cup of coffee.  We always stayed in hotels when traveling however, we loved to stay at bed and breakfasts when we traveled for leisure and could choose our own lodging.  We often talked about owning our own as we both love to cook and to meet people and hear their stories.
When we brought Elyse home, I had the good fortune of being able to leave my job and stay home with her.  Robin was still working and traveling extensively.  He was not happy being away from home so much, and this was hard on everyone.   After about two years, we talked about him leaving his job.  We had no definite plan, just decided "we would figure it out."  After a particularly hard trip, Robin came home one evening and asked if I was serious about him just leaving his position.  I said "Please!"  Next day, in went his resignation!
Although we had been looking at B&Bs on the internet, we were not serious about buying one.  On a trip to New Hampshire, Robin's home state, we decided to take a look at several for sale in Freeport.  Realize I had been to Maine once, passing through for one day on business a number of years earlier.  So, we take a look at these properties on a Friday, fall in love with James Place Inn, go back to Michigan and make an offer on Monday and…the rest is history!  Just ten and a half weeks later we had sold our home in Michigan, a condo in New Hampshire and bought a bed and breakfast in Freeport, Maine!  We had not worked in the hospitality industry before (I was in sales management at a publishing company, Robin was in sales management at a structural steel company) but we knew sales and we were determined.
We are happy to report that we will celebrate twelve years as the owners of James Place Inn in September, 2018.  It has been a lot of work but so worth it.  We have met so many amazing and wonderful people, many who have become dear friends.  And we could not ask for a better lifestyle for our daughter, and us as a family.
(For those wondering, our daughter Elyse is now 14 and in high school.  I simply cannot part with this picture, where she is 8, and that grin.  Besides, I don't have to look any older this way)!