Q: What time is check-in and check-out?
A: You can access your room as soon as it is ready, but typically during peak periods rooms are not available until after 2:00PM. If you arrive earlier, then you are welcome to leave your car in our driveway and explore Freeport.
We ask that you check-out by 11:00AM. Please let us know if you require a later departure and we will be happy to work with you.
Q: Do you require a deposit?
A: We currently do not require a deposit for guest stays.

Q: What are your payment and cancellation policies?
A: We accept cash, check, and credit cards for payment.
Your credit card will not be charged until the day of your departure.
We are currently not charging for cancellations if you provide at least two days' notice. If you do not show for a reservation, your card will be charged for at least the first night's stay.
Q: Do you have gift certificates?
A: Yes, we are pleased to offer gift certificates that you can give to friends or family so they can enjoy a stay in Maine. Please call us at (207) 865-4486 and we will get your information and email you a certificate you can print. Note that the physical gift certificate does not need to be presented to be redeemed.
Q: Do you have WIFI?
A: Yes, the WIFI node is JPI Guest and the password is jamesplace. If you're having trouble connecting just let us know as Comcast does have occasional outages.
Q: Do you have onsite parking?
A: Yes, we have a long driveway with enough spaces along the tree line and at the back of the property. If you're towing a trailer, then the Freeport RV lot is right around the corner.
Q: Are you handicapped accessible?
No, we do not have wheelchair ramps or handicapped accessible rooms.
Q: What is your floorplan?
A: There are six stairs required to get you to our first-floor rooms. We have 4 rooms on the first floor and 3 rooms on the second floor. We do not have an elevator.
Q: Does each room have a private bath?
A: Yes, each room has a sink, toilet, and shower. As extra amenities, some guest rooms have jetted tubs.
Q: How many people can sleep in a room?
A: Our rooms are set up to comfortably sleep 2 adults. One room (Blue) has an extra twin bed, and another (Yellow) Has a couch that pulls out to a twin bed. We can also add a roll-away to any room. Sleeping four in a room can work with children but we do not recommend it for adults, if only because bathroom space will become very cramped. There is a $40 per night charge for each additional adult in a room.
Q: Do you have common space?
A: Yes. On pleasant days, our breakfast deck is available for an outside lunch or dinner. Our front garden space with Adirondack chairs and firepit is a wonderfully quiet space for relaxing or preparing smores (just ask us for the kit). There's also a hammock across from the breakfast deck in the tree line.
On cold or rainy days, our sitting room has comfortable couches and a table where you can either relax or play one of our board games.
Q: Are there TVs in the rooms?
A: Yes, we have 43-inch color TVs in all guest rooms. We have dozens of over-the-air channels as well as hundreds of internet stations. Our TVs can also stream content from your portable device, or you can choose to log in directly to your apps from the TV. We also have an extensive DVD library and a portable DVD player.
Q: Are your rooms air-conditioned?
A: Yes. All our guest rooms have window-mounted air conditioners. Most of the time opening a window is just as effective.
Q: Are there hairdryers in the bathroom?
A: Yes, all our bathrooms have hairdryers, soap, shampoo, conditioner, make-up remover cloths, and Maine-made goat-milk bar soap. We can also loan you an iron and ironing board if needed.
Q: Are you pet friendly?
A: Unfortunately, no. While we ourselves have a Newfoundland dog that you are likely to meet during your stay, we do not allow pets in the guest rooms due to allergy considerations for other guests.
Q: What's the deal; breakfast is included as part of my stay?
A: Yes, we happily serve breakfast each morning to all our guests. We start with fruit, yogurt, and home-made granola. Scones or muffins usually grace your table as well, along with a baggie for any you choose not to finish and take for later in the day. Our hot entrees alternate between an egg-central dish and either pancakes, waffles, or French toast. You choose when to stop. Please let us know when you check-in if you have any allergies or dietary restrictions and whether you'll be sleeping in and skipping breakfast or just having a portion of it. We have 8:00AM and 9:00AM sittings to allow for social distancing during covid. Breakfast is included as part of your room rate.
Q: Do you allow smoking on the premises?
A: No, you cannot smoke, vape, or burn incense in any of the guest rooms. You can smoke outside in the driveway. Please be kind and pick up your cigarette butts. Remember that another guest will occupy the guest room after you so you will be charged a fee if the room needs additional disinfecting because you chose to ignore this policy.
Q: Do the innkeepers live onsite?
A: Yes, Mary Ann and Bill live in the three-story structure at the very back of the property. There is a buzzer on the deck to alert them to your arrival or if there is an issue during your stay. The easier way of communicating is either to call or text the inn number (207-865-4486) since it rings directly on Bill's cell phone.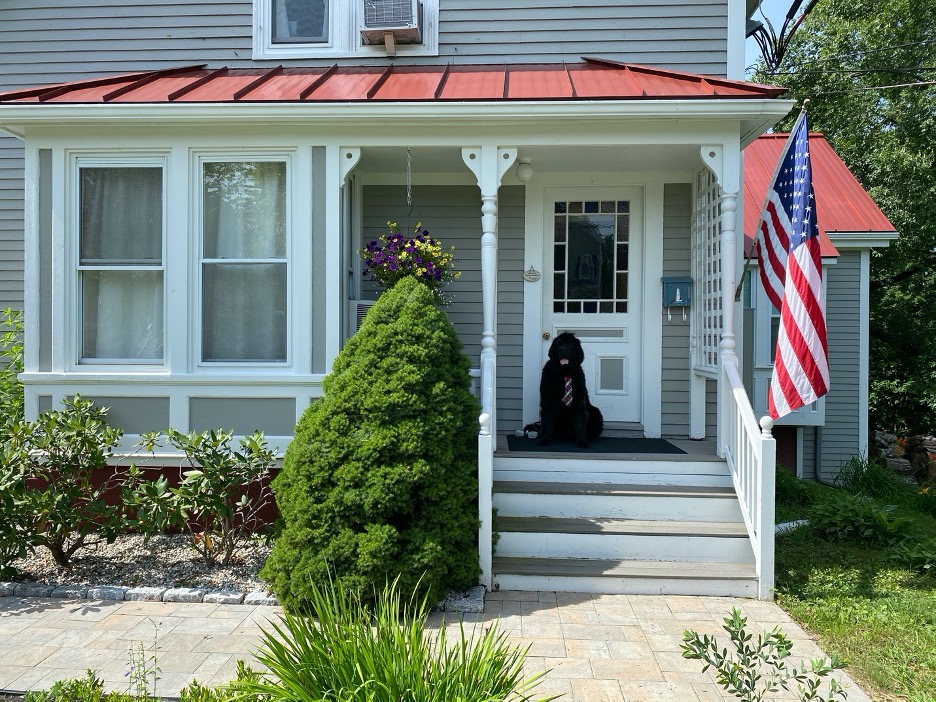 Q: Do you need a car to get around Freeport?
A: No. The heart of Freeport is the LL Bean campus which is a quick 5-to-10-minute walk from our place. We recommend leaving your car in our driveway and walking to town unless the weather is inclement. The myriad of shops and restaurants in town are just as walkable. If you're headed to one of the Freeport breweries on the outskirts of town or to the dock in South Freeport, then you'll want to drive.
Q: Do you provide recommendations for eating, shopping, and other activities to do while in Freeport?
A: Yes, we're happy to help make your stay as enjoyable as possible, whether it's just for the night or an extended stay. We have links on our site for shops, restaurants, and activities. Please discuss your plans with us and we can recommend places to stop that truly enhance your visit to Maine.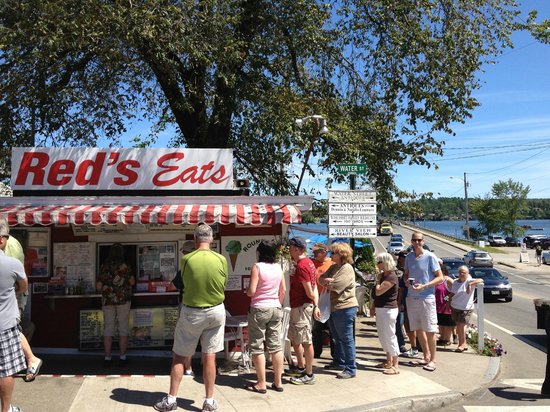 Q: We're driving an electric car. Where can we charge?
A: Right here! We are pleased to be part of Tesla's Destination Charger Program. We have two Tesla chargers that share a 100amp circuit and a third J1772 that has a dedicated 50amp circuit for other electric vehicles. The Freeport supercharger is a short drive down the street for Teslas that want to charge faster.
Q: How far is it to Portland?
A: About 20 minutes. You'll probably be paying for parking so it's best to download and install the Passport Parking App while you're at our place.
Q: How far is it to the Portland Jetport?
A: About 25 minutes.
Q: How far is it to Acadia National Park?
A: About two and a half hours drive. The interstate route (295/95) allows for faster travel speeds but is longer in distance than the coastal roads (Route 1). You will be tempted to stop for eclectic shops, and you'll have to navigate town traffic more on the coastal road.
Q: The Downeaster serves Freeport. How close are you to the train station?
A: The James Place Inn is about a five-minute walk from the train station, but the last part is uphill and may not be the way you want to start your stay in Freeport. We are happy to pick you up and drop you off at the station if you give us advance notice.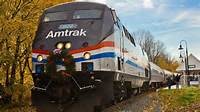 Q: Are there local trails for walking, running, hiking, or biking?
A: Yes. While we are not experts, we can recommend local routes that have scenic opportunities.
Q: Do you charge for cleaning or damage?
A: Maybe, it depends upon the severity. Deliberate or intentional misuse of our property will not be looked upon kindly. Please treat our space like you would if you were visiting a friend's house.
We understand that accidents can happen, especially when you are in unfamiliar surroundings. Please let us know if something breaks or if some part of your stay is not living up to your expectations. We appreciate the opportunity to fix the issue. If for whatever reason that is not possible, we will do our best to accommodate you in some other way.