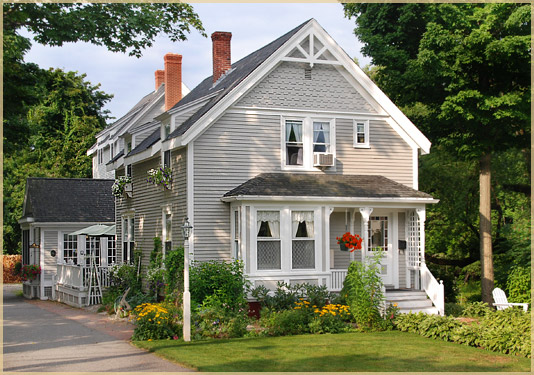 The James Place Inn is a restored Victorian-style home built around 1890. We are currently researching the house's history but we believe it to be a "Mallett House". E. B. Mallett was a local businessman and shoe manufacturer with an extensive local workforce that needed housing; many of these types of houses were built in Freeport and only a few remain standing today.
The house changed hands a number of times but by the 1990's it suffered from neglect and was slated for demolition when Darcy and Bill James purchased the property in 1994. Not long out of college, the couple converted the house into a bed and breakfast. It was a labor of love! They took the existing structure down to the studs and lived in a room while they remodeled it. Bill was a great carpenter and Darcy had a great eye and wonderful taste, making them a perfect pair to create an inn. All the electrical and plumbing was redone to code and the original hardwood flooring was preserved throughout the inn, including the rectangular-style nails. The staircase in the front hall, all of the wood trim, the window casings and the exterior structure are all original. The house is now considered historic – even the paint color of the exterior (just ask McDonalds down the street)! During the renovation, the couple also added the owners' quarters at the back of the property.

In September 2006 Tori and Robin Baron purchased the property; they fell in love with it during a trip to Freeport while they were considering retiring from their respective sales positions. The Barons were thrilled to take over the inn and to have the opportunity to spend more time with their daughter Elyse. Matching the James's tradition, Tori brought her aesthetic touches to the inn while Robin worked on the bones, notably adding the Wisteria room with the marble-tiled shower.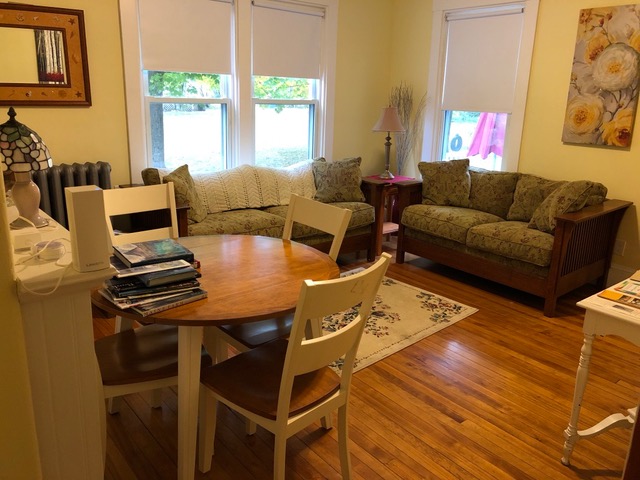 The Barons worked hard to build the inn into the #1 B&B in Freeport for nine straight years. They nurtured the business into the Internet age and made a number of friends from around the world in doing so. In June 2019 they sold the property to Mary Ann and Bill Hinko.
Mary Ann and Bill are native Pennsylvanians and moved here from Northern Virginia. They fell in love with Maine on their honeymoon nearly thirty years ago. Mary Ann just retired from teaching elementary school. Bill worked in Finance and Accounting for over 30 years. They have a three year old Newfoundland dog; Baldur expects to be mistaken for a black bear during their walks through the park. Now that they are residents, Mary Ann and Bill look forward to sharing their love of Maine with their guests and new friends.