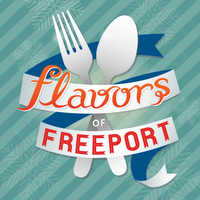 Flavors of Freeport is coming to you once again, this year February 15th-February 17th.  What a perfect gift for your Valentine!
12th Annual Flavors of Freeport
Experience Flavors of Freeport for an authentic, and local culinary adventure in Freeport, Maine.
Flavors of Freeport – February 15 – 17, 2019
Throughout the weekend you will find a variety of foodie events from chocolate factory tours and a lobster brunch to free tastings and demonstrations all over town. Visit Freeport's Flavors of Freeport features two nights of premier events! A Chef's Signature Series and Ice Bar on Friday, showcasing Freeport area restaurants, and food & alcohol producers, and the Ice Bar featuring a funkadelic dance party with Motor Booty Affair on Saturday!
Chef's Signature Series and Flavors of Freeport Ice Bar! 
The Hilton Garden Inn Freeport Downtown
Friday, February 15, 2019
Chef's Signature Series: 5 p.m. – 8 p.m., Ice Bar: 5 p.m. – 9 p.m.
Flavors of Freeport Ice Bar with music by Motor Booty Affair!
The Hilton Garden Inn Freeport Downtown
Saturday, February 16, 2019
5 p.m. to 9 p.m.
Visit Freeport's signature event showcasing chefs and food producers in the greater Freeport area. Enjoy delicious samples from some of Maine's best chefs, sample local brews and beverages, and learn about what's new in Freeport's culinary world. Best of all, the great variety will leave you delighted and coming back to Freeport for more! The Flavors Ice Bar features frosty beverages, beautiful ice sculptures, fun photo opportunities, snow machines, roaring fires and a DJ to get you moving!
While some of the main events take place at Hilton Garden Inn, we are just three blocks away, making James Place Inn an ideal place to stay and explore this fun, foodie, funkadelic weekend!  Park your car and walk around town, enjoying the ice bar and cocktails without worrying about the drive.  These events do sell out very quickly, particularly Motor Booty Affair as they are a favorite every year.  Let us help you get tickets and plan your weekend.  James Place Inn is the place to stay.