Since we moved to Freeport we've been fascinated about the history of our property. With the help of the Historical Society, we've been able to nail it down with a relative degree of certainty.
In the beginning
Our lot was originally part of a larger parcel owned by the town doctor, Ephraim Hyde. The doctor passed in 1874, willing the property to his children.
Hello Mr. Mallet
In 1886 they sold the property to Edmund Mallet. You can't walk through town today without seeing some sign of Mallet's big dreams for the town. He built shoe factories, a sawmill and grist mill, stores, a brickyard and granite quarries. He employed many people and found that he needed to build housing in order to attract more. Many of his employee houses remain standing today, either as part of the Freeport community infrastructure or as single-family homes.
Following the Hyde property purchase Mallet subdivided the parcel and in 1891 he sold a lot to Presbury Lo Dennison, an aspiring merchant. We're not certain whether Mallet and Dennison had an arrangement in mind that included boarding some of Mallet's workers when he transferred the property to Dennison for $1. What we do know is that Dennison appears on Freeport's property tax roles in 1891 for a house and our inn looks amazingly like the other Mallet boarding houses around town. Dennison is the second to last entry on the following tax page.
Presbury Lo Dennison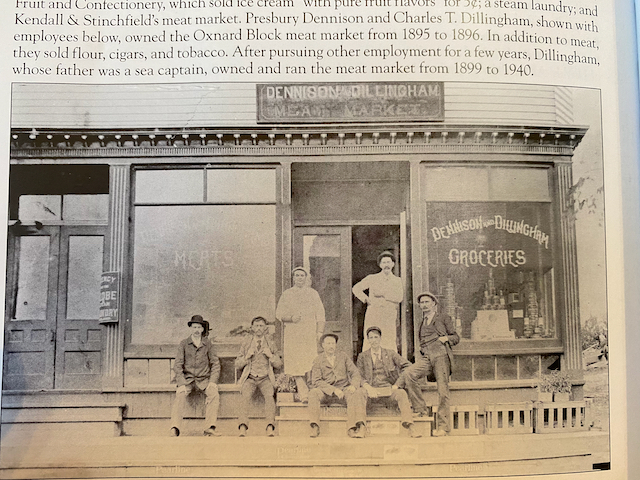 Dennison eventually teamed up with Charles Dillingham around 1895 to run a meat market and grocery store. At some point they fell on hard times and declared insolvency in 1897. The house on Holbrook Street was part of the assets disposed of during the proceedings. Sarah Vining bought it for $1500.
During the next century it changes hands numerous times, spending about a decade with each owner. The exception is when it is purchased in 1923 by the Nevins. They kept the property for 42 years; we believe Alice was a local teacher.
More recent history
During the 1980s and 1990s, the property fell into disrepair and was slated to be demolished by the town.  In 1996 the James family stepped in and rehabbed the structure, turning it into The James Place Inn.  We haven't had the opportunity to talk to Bill or Darcy James yet; we hear they are still Cumberland County residents.  The stories we got from the prior owners and other guests that have been coming to the inn for years paint them both as energetic dreamers.  They had a large dog that was part wolf and they slept in a tent on the property while they were remodeling the structure.
The Historical Society has a program to honor older structures and we are now the proud owners of the new plaque at the front of the inn.