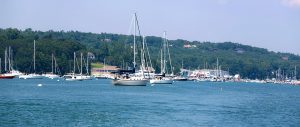 Summer In Maine.
It has arrived, and what could be better? Long days stretching before us with nothing to do but relax and enjoy them (well, at least for our guests)! We are enjoying the start of the season here in Freeport and the opportunity to greet old friends and make new ones. We continue to say, after almost eight years as Innkeepers, that meeting new people is the best part of our job. People from all over the world come to Freeport, Maine and the James Place Inn. Perhaps they are on vacation, visiting family, or maybe passing through on business. No matter the reason, many have been wanting to come to Maine, and Freeport, for years. They have seen pictures in magazines, read about it in books, or maybe heard stories from a friend. The comments are always about how beautiful Maine is. We have beaches, mountains, hundreds of miles of coastline, lighthouses, lobsters…the list of things to see and experiences to have is endless.
One of my favorite things to do is stare at the water and smell the salt air. Sounds crazy, perhaps a little boring, but it has such a calming quality to it. The ocean is but one mile from Freeport and has one of my favorite lobster shacks, Harraseeket Lunch and Lobster (www.harraseeketlunchandlobster.com). It is a great place to sit and have a bite and recharge your batteries. The scenery is beautiful and the lobster could not be more fresh. The smell of the salt air is the perfect accompaniment to lobster and leaves you ready to tackle the rest of the day.
Still looking to plan your summer vacation? Whether it is a week or two or a day or two, make your way to Maine. There is so much waiting for you. Freeport is an ideal location as there are many things to do within a one hour radius of here. Take a little break from the city and the daily chores. Set your sites on Freeport, Maine. Summer in Maine. Waiting for you.