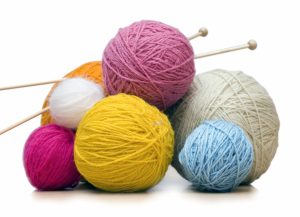 The New England Textile Arts Network (NETA) was founded in 2003, at the SPA, Knit and Spin gathering in Portland, Maine. Its members share two common passions: a love of fiber and a commitment to learn from and teach each other.  Now in its 15th year, it is time for Spa, Knit, & Spin once again.
Come see all of the talented artists and enjoy the many vendors collected for this occasion.  Hosted by Hilton Garden Inn in Freeport (just 3 blocks from James Place Inn, making us a perfect place to stay), the fun weekend kicks off Friday, February 23 and runs through Sunday, February 25.  This is a retreat. Stay at one of the B&Bs, hotels, or come up for the day.  The choice is yours to make the weekend what you want it to be. NETA provide the foundation, with great places to stay and lots of common space to hang out and work on projects. You decide to learn something, or stay in bed till 3:00 in the afternoon, or check out the sights and shopping and great restaurants in Freeport. The only schedule is for the Marketplace hours, and for the Fashion Show.  The Fashion Show takes place at the Harraseeket Inn and is always a quick sellout.  Be sure to get your tickets early!
James Place Inn offers seven guest rooms (we still have several available for this weekend), all with private baths.  A full 3-course breakfast is offered each morning with coffee service starting early.  We offer a lovely sitting area to gather and knit, talk, enjoy a snack or glass of wine together.  Special rates offered for Spa, Knit, and Spin participants.  Just mention the reason for your visit when you make your reservation.  Grab your friends and come to James Place Inn for your retreat weekend.  Relax.  Enjoy.