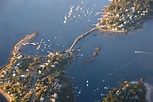 While the calendar is still marking summer, the weather has turned deliciously crisp!  September in Maine is by far my favorite month here in Maine.  The days typically range in the low-to-mid 70's while the nights hover around 50 degrees – perfect for sightseeing and then a good night's rest.  The icing on the cake?  Everything is still open for business but the crowds of July and August are gone.  What better time to come see all that Maine has to offer?
Guests of James Place Inn are often asking for recommendations regarding scenic water views.  While we have several here in Freeport, Wolfe's Neck State Park and Winslow Park, one of our favorite places to recommend is Bailey and Orr Islands on Harpswell Neck.  While just about 45 minutes away, you feel as if you are taken a bit back in time, seeing quintessential Maine and coastal living.  The drive itself is scenic but nothing compare to the beauty of the views from Orr and Bailey Island, straight out to Casco Bay and open ocean.
One of the most amazing sites is the Cribstone Bridge, the last one left in the United States.  The bridge connects Orr Island to Bailey Island and is an engineering fete.  Built of nothing but granite, gravity holds this bridge together.  The pattern is where "Cribstone" gets its name, looking somewhat like a basket weave.  This pattern allows the water to move through the granite as the tides come in and out.  My favorite view is from Schooner Alert (a fabulous two hour sailing excursion with owners Bethany and Perry) and being able to see straight through the center cutout of the bridge to the Atlantic Ocean – nothing else like it!
While here, explore the many residential areas, the small towns, and the amazing fresh seafood available.  There are a number of lobster shacks as well as fine dining available.  There are a number of local stores that offer food as well, with small seating areas and sandwich menus, as well as locally made pastries.
This is a destination you don't want to miss.  Some of the best sailing in Maine happens in September and October.  Give us a call and book your fall Maine vacation.  You will be glad you did!