The Amtrak Downeaster is your car-free connection from Boston, Massachusetts to Freeport, Maine.  Pick up the train at Boston's North Station and arrive in Freeport, Maine.  Stroll the two blocks to your room at James Place Inn, or let us know when you plan to arrive and we will be waiting for you.  Shop at world famous L.L. Bean in Freeport, or check out one of their Outdoor Discovery School offerings.  (They vary depending upon the time of year; current offerings include standup paddle boarding, kayaking, archery, clay shooting, and archery).  Enjoy the shopping, with over 100 stores to explore.  Have a great meal at one of our many restaurant options before taking in a movie at the local movie theater, Nordica, featuring six screens.  Why drive when you can take the Amtrak Downeaster?
The Amtrak Downeaster offers two seating options: Coach Class and Business Class.  Both offer reclining seats with lots of legroom and plenty of space to move around.  There are also fold-down trays for your beverages and snacks and overhead reading lights, free Wi-Fi and electrical outlets.  Pay just $9 more and enjoy Business Class, featuring extra-spacious fully reclining leather seats, complimentary newspaper, and complimentary non-alcoholic beverage delivered to your seat.  Business Class is located by the Café car, allowing easy access for snacks and beverages, or a light meal.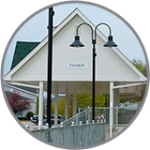 Want to bring your bike?  Ask the Downeaster about bicycle transportation on your train.  A number of trains offer bike transportation.  If your train does not offer this, ask us at James Place Inn as bicycle rentals are available and can be delivered right here to the inn.
The Amtrak Downeaster is a great value.  Fares range from $9-$29, one-way, depending upon your destination and origination.  Seniors and kids ride half-price (seniors over 62 years of age, kids 2-12).  Kids ride free on Sunday.
With all of these great advantages to riding the Downeaster, plan your next trip to Freeport on the train.  Sit back and relax and leave the driving to someone else.  What are you waiting for?