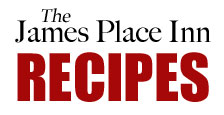 The James Place Inn is rated the #1 Freeport Maine bed and breakfast by TripAdvisor. One of the reasons our guests rate us so highly is the amazing breakfasts! We've been asked to share some of our favorites recipes, so we'll be posting them from time to time on our site.
Today's recipe is a real favorite – our Boston Brown Bread Muffins!
Boston Brown Bread Muffins
Ingredients:
| | |
| --- | --- |
| ½ cup rye flour | 1 cup buttermilk |
| ½ cup yellow cornmeal | 1/3 cup firmly packed dark brown sugar |
| ½ cup whole-wheat flour | 1/3 cup vegetable oil |
| 1 ½ tsp. baking soda | 1/3 cup molasses |
| ¾ tsp salt | 1 egg |
| | 1 cup raisins |
Directions:
Preheat oven to 400 degrees. Butter standard muffin tins
In a medium bowl stir and toss together the rye flour, cornmeal, whole wheat flour, baking soda and salt. Set aside. In a small bowl whisk together the buttermilk, sugar , oil, molasses and egg until smooth. Add to the dry ingredients and stir just until blended. Stir in the raisins.
Spoon into the prepared muffin tins, filling each cup two thirds full. Bake until toothpick comes out clean, about fifteen minutes. Cool in tin for a few moments, then remove.