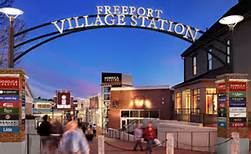 Best Places To Visit In Maine; Freeport, of course.  Recently chosen by Down East Magazine as one of the "Best Places To Live" in Maine, one visit shows you why.  While Freeport is known to many for its shopping there is so much more to do and explore, any time of year.
Stroll downtown Freeport and take in the L.L. Bean campus.  The four campus stores are available for browsing 24/7/365.  Guests are often surprised by this and might go in the middle of the night simply "because they can."  The staff are always friendly and welcoming, no matter the time of day or night.  Although L.L. Bean has its world headquarters here in Freeport, it is not a company town.  The retailer does however host many community events, including the summer concert series running on Saturday evenings beginning July 4th weekend through Labor Day weekend.  (Look for the 2017 performance list to be released sometime in April).
While the shopping and restaurants are a draw for many, there is plenty else for the "non-shopper" to enjoy in and around Freeport.  Head out to Wolfe's Neck State Park and you will feel like the shopping district is a million miles away.  The park offers numerous hiking trails and wondrous views of Casco Bay.  Early season (May and June) will likely afford a spotting of Osprey with babies in the nests.  Harbor seals are often sunning themselves on the rocks, depending upon the tide.  Enjoy the sun rising or watch the moon come up over the water.
Another favorite of ours is Freeport's town park, Winslow Park.  Less than ten minutes from the hustle and bustle of Freeport, this gem has several easy trails to follow along the water's edge.  We never tire of walking along the park paths and enjoying the views of Casco Bay and the islands.  The town beach is a great place to enjoy a picnic, play in the sand, or take a cool dip (depending upon the tide).  The summer season brings many campers to Winslow, and local bands playing in the small outdoor pavilion on Thursday evenings.
For those looking for outdoor adventure, kayaking, stand up paddle boarding, clay shooting, fly-fish casting, and archery are all available through L.L. Bean's Outdoor Discovery School (ODS).  Kayaks, paddle boards, and bicycle rentals are also available through a variety of other sources around town.
One visit to Freeport will show you why it is Maine's#1  (number one) destination for travelers.  We residents love it as well and are thrilled to call it home as one of the top places to live in Maine.  Come check it out for yourself.  (Hint to first-time travelers to Maine: July and August are quite crowded however May, June, and September are delightful months to visit when everything is open yet the crowds are diminished).