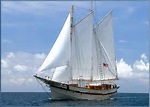 Best Things To Do In Maine
Plan your 2017 Maine vacation now, and be sure to plan enough time to fit everything in!
Hiking!  So many places, not enough time.  With ten minutes of James Place Inn, Freeport, try Wolfe's Neck State Park, Bradbury Mountain State Park, or Winslow Park (our town park and beach).
Kayaking or Stand Up Paddle Boarding! Hit Casco Bay at sunrise, sunset, whenever!  New to the sport?  Try one of LL Bean's Outdoor Discovery School courses to learn how.  All instruction and equipment supplied for just $25/person.
Beaches!  So many to choose from within 30-45 minutes of Freeport.  Popham Beach remains our favorite.  One visit and you will know why.
Lighthouses!  There are three lighthouses in Portland (twenty minutes south of Freeport).  Head north and the options are endless and offer a beautiful drive with many other things to see and do along the way.
Lobster!  So many lobster shacks.  We dare you to try them all and choose  a favorite.  It may take you several visits to find your favorite lobster roll.  They are not all the same!
Museums!  A favorite among our guests is Maine Maritime Museum (MMM) in Bath (just twenty minutes to the north of Freeport).  The museum offers a variety of exhibits, including the history of lobstering.  A trolley ride takes you onto the grounds of Bath Iron Works while a boat excursion provides fabulous views from Kennebec River.  James Place Inn guests receive 20% off MMM admission price.
Boat Rides!  While there are many to choose from, Schooner Alert, located on Bailey Island, is our favorite.  Locally owned and operated by two captains who have sailed the world and returned to Bailey Island to raise a family, Bethany and Perry are full of local lore and information.
Gardens!  Coastal Maine Botanical Gardens are rated #2 in the country.  Located in Boothbay (about one hour from Freeport), these gardens are truly spectacular.  Starting with 38,000 tulips in the spring (May is the month), these gardens are a delight for all ages.
Breweries!  Maine was recently names the "Craft Beer Capital of the World."  With over 80 craft beer breweries in the state, you are sure to find one you like.  A favorite of many is located one mile from James Place Inn in Freeport, Maine Beer Company.  "Peeper" is my favorite here, although quite a few guests like the "Lunch" brew.
Music!  Freeport Summer Concert Series begins July 4th weekend and runs through Labor Day.  Sponsored by LL Bean, free concerts are held every Saturday at the LL Bean Discovery Park, just two blocks from James Place Inn.  The lineup is always great and includes local bands as well as big names.  The Lyle Lovett concert last year was awesome!  And totally free!  Looking for more music action?  Portland had over 72 concerts last summer.  There is always something going on.
Still trying to figure out what to do for your summer vacation?  Look no further.  Call and reserve your stay at James Place Inn today.  We will gladly make recommendations of things to do and help you plan your itinerary to make the most of your time in Maine.