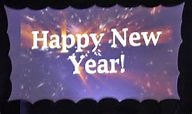 Celebrate the New Year in Freeport, Maine.  The holidays are over (almost) and now it is your turn to take some time for yourself.  Relax, shop the sales, take in the music and fireworks New Year's Eve, treat yourself.
There is still plenty to do in Freeport.  LL Bean will be offering musical events throughout the day, including the coordinating music and light show of the LL Bean tree, happening every evening from 5-9pm, on the half hour.  The LL Bean campus is conveniently located two blocks from James Place Inn.  Also happening New Year's Eve are the fireworks at 6:00pm.  Somehow these fireworks look so different than those of July 4th, what with the cold temperatures, early darkness, and perhaps even snow!  Speaking of snow, we do not have any yet however, it will come eventually.  When it does, there are great opportunities for cross-country skiing and snowshoeing happening in and around Freeport.  The LL Bean Outdoor Discovery School offers the chance to try either of these two adventures for just $25.00/person.  This includes all instruction and equipment, providing a great way to try something new.  Personally, I enjoy being a big kid and hitting the sledding hills.  Pineland Farms, just twenty minutes away, offers several great hills for sledding.  Best part is all of the fresh air and exercise, followed by hitting the café at Pineland Farms for hot cocoa and perhaps a treat as well once you are through.  A great afternoon!
Didn't get everything you wanted for Christmas?  Perhaps have some gift cards to spend or things to return?  The stores start their sales right after Christmas making this an ideal time to come and spend a few days here shopping the sales, making returns, perhaps even tucking away a few gifts for next year.  (I am never quite organized enough to make this happen)!  Enjoy a nice meal and take in a movie at Nordica Theater, our six-screen theater just two blocks from James Place Inn.  Treat yourself to one of our deluxe rooms with a Jacuzzi tub or a fireplace.  Perhaps try Taupe Room, sporting new furniture.  All of our rooms have private baths, TVs with DVD players (and a DVD library you can help yourself to).  Our full breakfast in the morning means you are set for the day – no lunch required!  You will want to hit up the cookie jar, however.  It is always stocked and waiting for you.  Treat yourself.  Spend New Year's in Freeport.