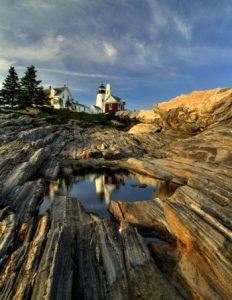 Nothing says Fall in Maine like a visit to one, or several, of our lighthouses. The "Lighthouse State" of Maine offers some of the most scenic lighthouses in the country. Boasting more than 60 options lighting up the coastline, you could plan a whole trip around these historical and iconic Maine beacons.  Fall foliage and our lighthouses are two of the best reasons to visit Maine.
Carved by glaciers, Maine's coastline was once perilous under foggy conditions and turbulent seas.  Beginning in 1794, lighthouses began providing towers of light and hope to aid sailors in navigating the difficult waters. Over the hundreds of years, Maine lighthouses have saved countless lives and helped to develop a unique and interesting way of life for their keepers.
Each lighthouse in Maine is as distinctive as its "light signature," or flashing pattern developed to signify its locale to sailors. Visit the infamous West Quoddy Head Light that marks the easternmost point of land in the contiguous United States and take a picture alongside its unique red and white striped tower. Check out the picturesque beauty of Cape Neddick "The Nubble" and its adjacent Victorian keeper's house replete with gingerbread trim featuring miniature cast iron lighthouses on its railing.
There are six lighthouses available for your viewing within just thirty minutes of Freeport:
Most well known, and one of the most photographed in the United States, is Portland Headlight.  Erected in 1791, it is located on the south side of the Portland Harbor entrance in Cape Elizabeth. Portland Head Light is one of the most premier lighthouses to visit in America let alone Maine. It also comes with a rich history, as it was commissioned in 1791 by George Washington, becoming Maine's oldest lighthouse. Located in Fort Williams Park in Cape Elizabeth, this 80-foot white fieldstone and brick conical tower offers visitors a beautiful location for picnics, hiking, relaxing in the park, or visiting the museum built in the former Lighthouse Keeper's quarters. Portland Light offers views of beautiful Portland Harbor.  The white fieldstone and brick conical tower stands 101 feet above sea level.
While visiting Portland Headlight, be sure to take in Spring Point Ledge.  Built in 1897 and standing 54 feet tall, it is white brick and cast-iron cylindrical tower on breakwater; Portland Breakwater, built in 1855/1875 is a 20-foot off-white cast-iron cylindrical tower atop octagonal pier (also known as Bug Light) and Ram Island Ledge, built in 1905.  Best viewof this is from Portland Head
Nearby on Cape Elizabeth is East Light, built in 1827/1874, this is a 67-foot white cast-iron conical tower, on Staples Point, southeast tip of Cape Elizabeth, and still active.
Next is Halfway Rock, a 77-foot white granite conical tower, 10 miles east of Cape Elizabeth off Harpswell Neck.  It can be seen from Portland Head or land's end, Route 24, Bailey Island.
Each lighthouse comes with its own set of sea tales, from ghosts of keepers past to fateful star-crossed wrecks. The lore and mystery of Maine's lighthouses never fail to pique the curiosity of our visitors. We invite you to explore the distinctive lighthouses of Maine: So come to Maine, breathe in the salty air, feel the power of the sea underfoot and experience an amazing part of our state's history as you explore each unique lighthouse.  Fall is an awesome time to take them in and enjoy the foliage as well!