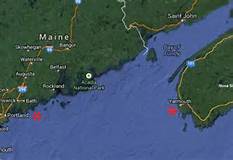 There is a new ferry in town, running between Portland and Nova Scotia.  This new ferry is smaller than that running last year however, it is much faster.
The ferry running the past two years emphasized luxury with sleeper cabins, three restaurants, two bars and a casino.  The trip took about ten hours as it made its way across the Gulf of Maine to Canada.  Not only is the Nova Star gone but five hours of travel time is as well.  The new Cat gets to Nova Scotia in half the time, about five and one-half hours.  The interior is still pleasant, offering a restaurant, two bars, and a place to watch a movie or television.
The move was made to reflect the need of travelers.  The Nova Star did not perform as well as expected in bringing passengers on board.  With such a large boat, the ferry line needed to transport about 100,000 people per year to make the numbers work.  The Star fell quite short of that and was pulled out of service fall of '15 as a result.  The time commitment, over ten hours of travel each way, was sited as the issue.  People want to reach their destination more quickly as opposed to an overnight trip aboard a ferry.
We have had a number of guests enjoy the ferry from Portland to Nova Scotia.  If you want to see Nova Scotia while in Maine, this is an ideal way to do it.  Spend time visiting Maine and then hop the Cat to Nova Scotia.  The new Cat will take a little over five hours, departing twice a day (expected schedule, not fully firmed up yet).  You can depart Portland mid-afternoon, landing in Nova Scotia around 8pm. Get in your car and head for your destination for a good night's rest.  The following morning, begin your travels through Nova Scotia.  This allows you to make the drive one-way instead of both directions as you can come back through Vermont or New Hampshire and see more sites.  You can also reverse this trip and bring the Cat from Nova Scotia to Portland.
The exact rates for cars and passengers have not been released but are due out any day, as is the schedule.  Ticket sales for the Cat are also expected to start mid-April, giving you ample time to plan your trip.
Been itching to see Maine, Nova Scotia and other parts of New England?  The Cat is the perfect way to travel to make the most of your vacation time.  Come stay with us at James Place Inn and we will gladly help with great things to do and see while in the area.  We are also ideally situated , being just twenty minutes to the north of Portland and the ferry terminal.  Get bus and start planning your ideal summer vacation today.