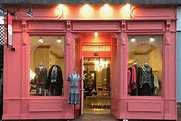 Freeport Maine Outlets: Five Must See Shops.  Freeport offers so many shops; some familiar and some unique and different.  These represent the "Must See," in our opinion:
L.L. Bean (of course) – Freeport is world headquarters to L.L. Bean.  Started in 1912, L.L. Bean now encompasses what is referred to as a "campus," with four retail stores: Full retail store, Hunting & Fishing store, Bike, Boat & Ski store, and Home store.  These are open 24-hours a day, seven days a week.  It can take some time to get through them, so plan on a few hours if you are really wanting to shop.  It is fun to simply walk and browse and makes a great destination for the insomniac!  Looking for bargains?  Check out the L.L. Bean Outlet, open 10am-9pm daily.
Cool As A Moose – This store carries creative and unique items.  If you are looking for a fun souvenir for yourself or the house-sitter, this is a good place to look.  Everything from wall art to pajamas to coffee mugs can be found here.  It is a great place to peruse and spend a few minutes browsing.
Wilbur's of Maine – Everything chocolate!  Made locally and continuously, stop by for the chocolate-covered oreos or the specialty malted milk balls.  Everything is delicious!  Try a sample and see for yourself.  You can also enjoy a factory tour.  Check Wilbur's of Maine in Freeport for the schedule.
Sashay's – Looking for an outfit to wear to that special event or wanting to update your wardrobe?  This is the store for you.  With many unique styles to choose from and ranging from casual to dressy, this is your place to shop to insure that you will not see your outfit anywhere else.  Complete with an amazing choice of jewelry and accessories, this is your one-stop shop.
British Goods – Okay, this is Freeport, Maine, not London, England.  This store guarantees a fun browsing experience.  The owners shop London several times a year to bring the real thing directly to their store.  From Marmite to Mincemeat, and everything in between.  This is a must see store for sure!