This moist, flavorful treat is sure to fill your home with the rich, warm smells of cinnamon, ginger, and most of all pumpkin. Perfect for a cold winter night and another one of our favorites to serve up for breakfast at the James Place Inn in Freeport, Maine!
Golden Pumpkin Bread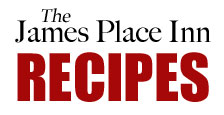 Ingredients:
1 c. milk
1 c. canned pumpkin
1/4 c. shortening
1/4 c. sugar
2 tsp. salt
1 tsp. cinnamon
1/2 tsp. cardamon
1/2 tsp. ginger
2 packages active dry yeast
1/2 c. warm water (110-115)
6 1/2 c. sifted alll-purpose flour
2 eggs
Directions:
Scald milk; stir in pumpkin, shortening, sugar, salt and spices.
Sprinkle yeast on warm water; stir to dissolve.
Add 3 c. flour, milk mixture and eggs to yeast. Beat with electric mixer at medium speed 2 minutes, scrapping the bowl occasionally. Or beat by hand until batter is smooth.
Mix in enough remaining flour, a little at a time, first with spoon and then with hands, to make a dough that leaves the sides of the bowl.
Turn onto lightly floured board. Knead until smooth and elastic, 8 to 10 minutes. Place in lightly greased bowl and turn dough over t ogrease top. Cover and let rise in warm place until doubled, 1 to 1 1/2 hourss. Punch down. Turn onto board, divide in half and round up to make 2 balls. Shape in loaves and place in 2 greased 9 x 5×3 " loaf pans. Brush tops of leaves with melted butter. Cover and let rise until almost doubled, about 50 minutes.
Bake in moderate oven (375) about 35 minutes, or until bread tests done.
VARIATION
Spiced Pumpkin Raisin Bread: Stir 11/2 c. seedless raisins into batter before
adding second portion of flour wwith spoon and hands when making Golden Pumpkin
Bread.
It's delicious treats like these, along with our amazing guest rooms and top-notch service, that have made the James Place Inn the #1 rated Freeport Maine bed and breakfast!