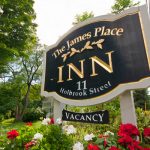 Lighthouses and Lobsters – the perfect Maine combination.  Add a warm and sunny day, of which we have been having many, and you are ready to go.  One of our favorite lobster shacks is right here in South Freeport, Harraseeket Lunch and Lobster, names after the Harraseeket River.  It sits on the public docks in South Freeport (also called "SoFree" for "South Freeport").  This lobster shack features large family-style picnic tables as well as a dining counter that offers a great view of the boats coming in and out.  Choose from a lobster roll or a full lobster dinner.  And be sure to save room to try the blueberry pie – delicious!
Another favorite place for lobster is The Lobster Shack at Two Lights.  Besides great lobster rolls (I am all about the lobster roll; all the benefit without all of the work!), the view is spectacular.  Not only is this lobster shack located along the beautiful rocky coast of Cape Elizabeth but it also offers a great view of Portland Headlight.  Portland Headlight was first lit in 1791 and is considered to be the most photographed lighthouse in the world.  What could be better than having your lobster while enjoying this view!  Be sure to visit Portland Headlight as it is one of the few lighthouses you can actually enter.  There is also a museum to visit while you are here.
Heading north along the mid-coast is the Pemaquid Point Lighthouse.  This lighthouse was first constructed in 1827.  Located in Bristol, Maine, Pemaquid Point is surrounded by stunning park grounds.  This is a perfect place to pack a picnic lunch (lobster – what else?!) and enjoy the day taking in the sites, scenery, and sun.
Be sure to check out our Lighthouse and Lobster Package.  We will provide you with the map, a special lighthouse souvenir map with all of the information and history, that is your to keep.  And we will point out the best lobster shacks for you to visit along the way.