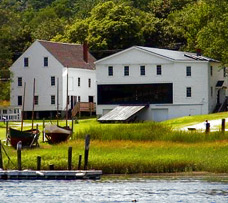 Maine Day Trippin' is easy to do from Freeport.  If you are looking for places to go and things to do, look no further than Freeport, Maine as your home base.
Throughout their stay, guests often ask us what there is to do in Freeport, besides shopping.  Our reply is "what do you like to do and how much time do you have!"  We can keep you busy for one day or five days, depending on how active you like to be.
Activities around Freeport are abundant.  Within a 15 minute drive, we can have you hiking on the coast at Wolfe's Neck State Park, enjoying the beautiful views of Casco Bay and the islands.  To enjoy views inland, as well as a view of Mt. Washington on a clear day, Bradbury Mountain is your answer.  There are many trails to hike here, some easier than others.  You can hike for one mile, or six miles.  The choice is yours.  Top of the mountain often has bird watching going on, specifically birds of prey and the counting of hawks and their many different varieties.  Check out the board to see what is flying in the area that day and then see how many you can spot.
One of the best ways to see Maine is to get out on the water.  Kayaking and SUP (stand up paddle boarding) are available at a variety of places in Freeport and Yarmouth (10 minutes to the south of Freeport).  LL Bean Outdoor Discovery School offers courses for both.  Fitness Success in Yarmouth offers SUP lessons and rentals.  What a great way to get some exercise and see the views from the water.
If you are looking for a more relaxing experience on the water, we suggest Schooner Alert on Bailey Island.  Sailing daily, Schooner "ALERT" is a  70ft Maine built wooden tall-ship that offers Two, Four, and Six hour public and private sailing cruises.  This is one of our favorite sailing adventures.  Help to work the sails, if you wish.  Or sit back and take in the amazing views of the islands, the ocean, the marine life.  Talk with Perry and Bethany, owners and world sailors as you take in the beauty of the Maine coastline.
Still looking for things to do?  We have several beaches within 35 minutes of Freeport.  Great for a good walk or taking in the sights, Popham Beach and Old Orchard Beach are sure to please.  If it is Lighthouses you seek, try our "Lighthouses and Lobsters" self-guided tour.  We will talk you through the lighthouse map and send you in your preferred direction (north or south) to get your fill, pointing out the best lobster shacks along the way.  Into food?  we have amazing restaurants in Freeport and around the area, as well as a "Foodie" walking tour offered in Portland.  Museums your thing?  The Maine Maritime Museum in Bath is but 25 minutes away and is well worth seeing.
Clearly there is much to see and do in a short radius from Freeport, making this an excellent place to use as home base while exploring Maine.  Call us at James Place Inn and let us help you plan your stay.  Our hospitality can't be beat and the location will ease your vacation planning.  Try us once and you'll be back!