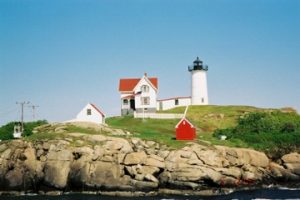 What says summer more than planning your trip to Maine to see our amazing Lighthouses and eat plenty of lobster.  Winter is finally releasing its hold, the crocus are up, and lobster shacks are beginning to open their doors once again.  Time to get planning that Maine vacation you have been wanting to take.
Freeport is a great outpost from which to visit many Lighthouses and some of our best lobster shacks in the state.  We are just 25-30 minutes from three Lighthouses in Portland, one of which is the famous Portland Head Light. Portland Head Light is a lighthouse built in 1791 at the entrance to the main shipping channel leading into Portland Harbor in the Gulf of Maine. Located in Cape Elizabeth, the lighthouse is the oldest lighthouse in Maine.
Just 30 minutes from there is the Cape Neddick Lighthouse, one of the most photographed lighthouses in the country. A classic example of an American lighthouse,The Cape Neddick Lighthouse is a true American icon. Its photo is included in the list of most important Earth structures that the Voyager spacecraft carries just in case it falls into the hands of extraterrestrials. The lighthouse has been standing on Nubble Island since 1879 and is popularly known as Nubble or Nubble Light.
Whaleback Light is a stone lighthouse perched on a rocky outcrop off the coast at the mouth of Piscataqua River between Fort Foster and Wood Island in Kittery, not far from the Maine-New Hampshire border. The original lighthouse has been built in 1820, but, due to its poor construction and the rough weather conditions in the area, it had to be replaced with a new one in 1872.
Spring Point Ledge Light is a spark plug-type lighthouse in South Portland, Maine, the only caisson-style lighthouse in the U.S. open to visitors. The lighthouse warns of a dangerous barrier on Spring Point Ledge on the main channel into Portland Harbor. It is located on the breakwater next to what is now the Southern Maine Community College campus.
There are plenty more lighthouses in Maine, but that will get you started yet keeps you close to Freeport.  The good news is that all of these lighthouses have great lobster shacks nearby.  Some favorites are Two Lights lobster shack on Cape Elizabeth; the food trucks at Fort Williams Park that have great lobster rolls; Red's Eats in Wisacasset; our own Harraseeket Lunch & Lobster in Freeport.  Just let us know what direction you want to head in and we will help make a recommendation of a great place to eat.  See you soon!