Come celebrate New Year's in Freeport, Maine and treat yourself to James Place Inn!  Take advantage of the sales and enjoy some post-holiday shopping while also enjoying some pampering at our inn.  James Place is located two short blocks from LL Bean, allowing you to take in the fireworks on New Year's Eve.  Stroll about Freeport and enjoy all of the holiday lights and a carriage ride, still available through January 1st.  The snow, and even the ice, have made the won festive and beautiful, sparkling with the sun during the day and the lights at night.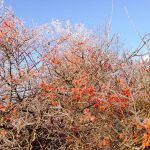 The winter weather has made for snowshoeing and cr0ss-country skiing as well.  LL Bean is running their Outdoor Discovery School, offering adventures for both of these winter activities.  Just $20.00/person lets you try snowshoeing and cross-country skiing, including all instruction and equipment.  Come back to the inn and warm up with hot tea or coffee and fresh-baked goodies.  Stay in one of our four rooms offering Jacuzzi tubs, or perhaps in the room with the wood-burning fireplace.  All guaranteed to put you in the winter spirit.
Stay for two consecutive nights December 30-January 5th and receive our off-season rates.  Looking for something fun and relaxing for New Year's?  Make Freeport, Maine and James Place Inn your destination!