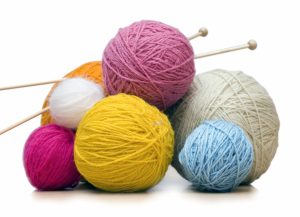 Spa, Knit & Spin 2016 Weekend is quickly approaching.  Make your plans to attend and hang out with your gal pals.  The weekend is February 26-28, 2016 and it is happening in Freeport, Maine.  While activities are hosted primarily at Hilton Garden Inn, our James Place Inn Bed and Breakfast is an ideal location to get away from the bustle and have a chance to relax and decompress.  Did I mention that our breakfasts are delicious and will keep you going all day long?!
This is a fun retreat opportunity.  Come up for the day or spend the night.  Chat and catch up with friends and other knitters as obsessed with the fibers and methods as you are.  There is lots of common space to hang out and work on projects.  You decide how much you want to do and participate in; decide to learn something, or stay in bed till 3:00 in the afternoon, or check out the sights and shopping and great restaurants in Freeport. The only schedule is for the Marketplace hours, and for the Fashion Show. (More on those events as the event is nearer).
There are no agendas, schedules, sign-ups, classes, or registrations for this event.  It is very casual!  Some of that stuff may happen if folks offer to teach what they know, but the best thing you can do at SPA is plunk yourself next to someone doing something cool and talk to them about it. This is a small event that always wants to get bigger, and sometimes bursts at the seams. If you need more, there are plenty of real conferences and bigger conventions and more formal events for you out there however, this is not it!  If you like the idea of just reuniting with really cool people, having a cocktail, talking some trash, and getting some knitting / spinning / weaving / crocheting / hooking / felting / done, this is your gig!
Grab some friends and make plans to stay at James Place Inn and hang out together.  Just three blocks from the action at Hilton Garden Inn, this is the cozy relaxing atmosphere you are looking for.