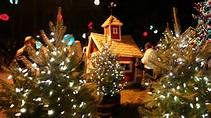 Sparkle Weekend is one of Maine's most popular holiday celebrations. The weekend kicks off Friday night with a Parade of Lights down Main Street, and the fun continues all weekend with a Sparkle Express Train Adventure, free horse drawn wagon rides, visits with Santa, a talking Christmas Tree and much more!
EVENTS ALL WEEKEND
Complimentary Gift Wrapping at L.L.Bean
Have your packages wrapped and ready before you leave the store. Donations accepted; all proceeds support local nonprofit organizations.
SAT & SUN | 9:00 a.m. – 9:00 p.m. | L.L.Bean
L.L.Bean Ice Walk
SubZero IceCarvings has carved very special ice sculptures that will amaze you. Be sure to see them all while you're here—and don't forget your camera!
SAT & SUN | L.L.Bean Campus
Musical Holiday Light Show
Over 25,000 colored lights that are synchronized with holiday tunes, a different show every half hour.
FRI, SAT & SUN | 5 p.m. – 9 p.m. | L.L.Bean Campus
Freeport's Famous Talking Christmas Tree
Bet you've never had a conversation with a talking Christmas Tree before!
Friday 6:30 p.m. to 8 p.m., Saturday 10 a.m. to 4 p.m., Sunday 10 a.m. to 4 p.m.
On the corner of Main and Bow St.
Freeport Players Present: WFCP Home Time Radio Hour: 1950s Holiday Edition
Back by popular demand, the "WFCP" ensemble returns to the "studio" with an all-new collection of songs from the 1950s and original sketches by our writers. Comedy, melodrama, catchy tunes, this show has it all. It's a blast from the past and fun for the whole family!
Friday & Saturday 7:30 pm, Sunday 2 pm – Freeport Performing Arts Center
FRIDAY, DECEMBER 4
Parade of Lights 6 p.m. RAIN OR SHINE!
See Main St. come alive with twinkling lights and song. Concludes with Santa bringing Freeport's Talking Christmas Tree to life! Click here  if your local group or business is interested in applying to participate in the parade.
Main Street. Maple Ave. – Grove St.
Visits with Santa 6:30 p.m. to 8 p.m.
Santa is coming to L.L.Bean!  He'll be hanging out with his good friend L.L.Bear so get your list ready and be on your best behavior! 
L.L.Bean Main Street Patio
SATURDAY, DECEMBER 5
Night Tree hosted by Wolfe's Neck Farm
A holiday tradition for children, the Night Tree event is inspired by Eve Bunting's book The Night Tree.  Her story is about a family that feeds the forest animals by making decorations for a special tree. Each hour during the day,  the story is read, and pinecones are decorated with birdseed and string popcorn, dried fruit and cranberries.  Once completed you take a short hike on the trails to leave these tasty treats in our woods for the animals.
9:00 a.m. – 2:00 p.m. Wolfe's Neck Farm.  $5
Holiday Movie at the Nordica Theatre
Come to the Nordica Theatre for a special showing of the Polar Express! For admission to the movie  just bring a food donation with you for the food bank.
10:00 a.m. | Nordica Theatre in Freeport Village Station
Holiday Gift Wrapping at Casco Bay Cutlery
Volunteers  will be on-hand to wrap any items purchased in Freeport.  100% of your donation will go to the Coastal Humane Society!  "Make your Freeport shopping experience easy!"
10:00 a.m. – 6:00 p.m. Casco Bay Cutlery
Free Old-Fashioned Horse Drawn Wagon Rides
Take a break from holiday shopping and explore the village at a slower pace.  It's a great way for you and your family to view the lights while experiencing an old time tradition.
SAT | 1 p.m. – 7 p.m. | Main St. in front of the L.L.Bean Flagship Store
25th Annual Worldwide Tuba Concert
An annual music concert in cities worldwide that celebrates those who play, teach and compose music for instruments in the tuba family.
2pm. Freeport Performing Arts Center.  Free Admission
SPARKLE EXPRESS MINI FEST
Cozy up and enjoy holiday music, carolers, kids activities, and your favorite Freeport businesses on hand selling holiday gift items, warm beverages, tasty treats and more! This year find a selection of New England Crafters and Artists selling family friendly and holiday themed items. 
1 p.m. to 4: 30 p.m. TRAIN & INFORMATION CENTER. Free Admission
Sparkle Express on the Amtrak Downeaster  – 2:30 p.m. + 3:30 p.m. (the Sparkle Express has an estimated 30 min running time) $18 per person
Take your family on a magical journey aboard the Amtrak Downeaster!  This round trip adventure from Freeport to Brunswick includes a reading of The Polar Express by Chris Van Allsburg!  Bring your own copy of this Christmas classic to follow along or pick one up at Sherman's Bookstore in Freeport!