Stay, Sail and Dine at James Place Inn. Summer has arrived! Finally! (Just had to add that as it has been a long time coming). We are having days in the low 70's and nights in the low-to-mid 50's. Perfect temperatures in my book. Why not take advantage of these picture perfect days and head to Freeport before the busy months of July and August set in? Our Stay, Sail, Dine Package is the perfect package for everyone, combining outdoor experience with food and shopping. (Not a shopper? Let us know and we will customize the package for you). The package allows you to enjoy a sail in scenic Casco Bay aboard a classic windjammer. Portland Schooner is host to two beautiful windjammers, Bagheera and Wendameen.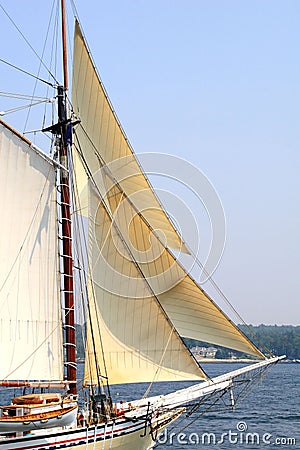 These classic boats sail Casco Bay and include views of Portland Head Light and Bug Light. After sailing, enjoy dinner at one of our favorite Freeport restaurants, Azure Café.
Top all of this off with a shopping spree to LL Bean. Not a shopper? Looking for more outdoor adventure? The gift card can be deleted from this package or used at the LL Bean Outdoor Discovery School. The Outdoor Discovery School allows you to experience a number of different sports. Choose from kayaking, fly fish casting, archery, clay shooting, or stand up paddle boarding. All of these fun adventures take place less than ten minutes from James Place Inn.