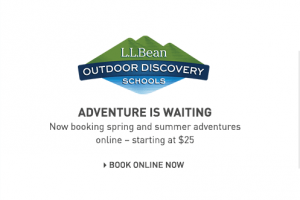 Come to James Place Inn in Freeport, Maine and experience our winter wonderland.  One great way to do this is through an Outdoor Discovery School adventure at LL Bean.  Throughout the winter, LL Bean offers courses in snowshoeing and cross-country skiing.  For just $20.00/person you are able to experience one of these two great outdoor activities.  All equipment and instruction is furnished by LL Bean.  Registration can be done the day of your adventure, just one block away from James Place Inn Bed and Breakfast at the LL Bean retail store.
After your time outside, relax in your room here at the inn with homemade cookies and a cup of tea.  Enjoy a hot soak in the Jacuzzi in your room.  Relax.  After a refreshing respite, walk to dinner and perhaps take in a movie.  The six-screen Nordica movie theater is just two blocks away.
The holiday season can take its toll on all of us.  Give yourself a treat and experience something new, all in Freeport, Maine and all at James Place Inn.