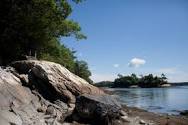 One of the most frequently asked questions we get, besides where to find the best lobster, is where to enjoy a good walk or a nice hike.  While there are many places within a short drive, we have several favorites.  Here they are, in no particular order!
Wolfe's Neck State Park – nice easy trails with beautiful views of Casco Bay
Bradbury Mountain State Park – quite a number of trails to choose from, some more challenging than others.  Very shaded.  On a clear day, you are afforded great views to the ocean.
Winslow Park – our local town park offers several trails around the peninsula with spectacular views of Casco Bay.  There is also a playground for kids as well as a small public beach (very tidal)!
Popham Beach – I think this makes every list, for everything!  It truly is one of the prettiest beaches you will ever see.  Stroll the 1 1/2 – 2 mile sand beach and explore Fort Popham.
Pettengil Farm – a hidden gem, owned by the Freeport Historical Society.  Open fields to walk through or take one of the ridge trails down to the water.  The view of the Harraseeket River off the back of the house is stunning, and so quiet you can hear the wind in the trees.  One of my favorite walks for some peace and quiet.
Back Cove in Portland – if you want more of the city views, this three-mile trail around the Eastern Promenade and the back bay is great for people watching and to enjoy the views of the water.
Peak's Island – enjoy a ferry ride from Portland (20 minutes) and head out to the solitude of Peak's.  (Okay, not much solitude in the summer).  Walk around the island and enjoy the views off the backside of the island, straight out to the Atlantic.  Very dramatic!
If you are heading north or inland, let us know and we can make other suggestions for stops along the way.  Maine is so beautiful, there are no shortage of options.  Come check it out!