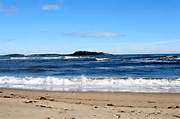 What to do and where to stay?  Common questions when you are planning your Maine vacation and ones which we get often from our guests as they call us to ask questions about the nearest beaches, lighthouses, hiking trails, lobster shacks.  You get the picture.
While known for being home to LL Bean and many other stores and boutiques, Freeport offers much more for those inclined to the outdoors and other activities.  Centrally located on the coast, there are many activities to enjoy within an hour radius and even more within a two hour radius.  Here are some of the top things enjoyed by our guests.
New to Freeport is Calendar Island Tours, offering Eagle Island State Park Tours, Eco Tours, and Bites on the Bay.  You can also enjoy a tour of the islands or a Sunset Tour (BYOB) on Casco Bay.  They even offer bus service so that you need not worry about parking down at the town docks.  Their shuttle bus picks up in front of LL Bean, just two blocks from James Place Inn.
For those wanting to explore by foot, Wolfe's Neck State Park is a favorite.  Located about three miles from Freeport, Wolfe's Neck offers many hiking trails and opportunities to view birds and other wildlife.  Several trails follow the water and afford beautiful views of Casco Bay.  Spring and summer bring some great birding, including Osprey often seen nesting.  Warm days bring out the seals to sun themselves on the rocks before taking a dip.  For more hiking, and some steeper trails, Bradbury Mountain is about fifteen minutes from Freeport.  This area has many trails, including biking trails, and offers great vistas over the rolling hills.  A clear day lets you see out to the ocean.
For those wanting Lighthouses, there are many to see in the area.  Portland, about twenty minutes south of Freeport, offers three Lighthouses to view, one of which you can go into and see the museum.  Head north to Pemaquid Point or the Breakwater in Rockland (about  1 1/2 hours north).  This is a beautiful day trip, before returning to Freeport and James Place Inn for a late evening stroll for ice cream or coffee.  This map may help in your planning: http://lighthousefriends.com/me.html
Many people think of Maine as all rocky coast and rocky beaches.  While there is certainly plenty of rocky coast, particularly the further north area, we offer some of the prettiest beaches anywhere!  A favorite for our family is Popham Beach.  With over three miles of sand and an amazing view of the Atlantic, I challenge you not to fall in love with Popham.  Located with Popham State Park, this beach is pristine.  Explore Fort Popham, a Civil War-era coastal defense fortification located at the mouth of the Kennebec River.   If the tide is out, walk through the shallow tide pools to one of the small islands and explore the periwinkles, horseshoe crabs, and shells.  Enjoy a long walk along this beach, relax with a good book, or take that afternoon nap.  Many other beaches are available within about thirty minutes of Freeport, all lovely and sandy.
There are many other things to do around the area:  Botanical Gardens (rated #2 in the country); Windjammer excursions in the bay; amazing rides to the White Mountains and the top of Mt. Washington; driving the Kancamagus Highway (particularly during foliage season – this is one of Robin's favorites on his motorcycle).  The list goes on and we are here to help guide you based on your preferences and mood-of-the-day.
The best place to stay while you are exploring is James Place Inn in Freeport.  We have been here over eleven years and have a reputation for service and hospitality.  We love what we do and take great pride in our business.  Give us a call and let us help you plan your Maine vacation.