Rated the #1 Freeport Maine bed and breakfast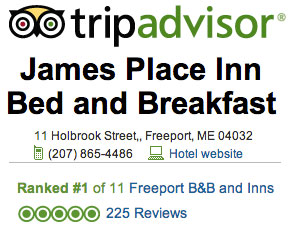 Here at the James Place Inn, we're so proud that TripAdvisor has rated us the #1 Freeport Maine bed and breakfast. We work hard every day to make sure our guests have the best experience possible, from our amazing guest rooms to our scrumptious home made breakfasts.
So why have we been rated #1? We thought it would be good to let you hear directly from our guests. Here are some recent comments from TripAdvisor, from real guests who've spent time at our bed and breakfast.
"Consistent Excellence"
"I recently had the pleasure of spending a night and morning at the lovely James Place Inn. I am a repeat guest and will continue in the future to enjoy this B&B. By now I have stayed in most of the rooms and love them all. Each room has it's own pleasant personality and charm. The rooms are comfortable, clean and tastefully decorated. I stayed in my favorite, the wisteria room, complete with a large jacuzzi tub and lots of natural light. It's next to the kitchen, so when I rise I can get a first hand peak at what the master chef is creating for breakfast. The innkeepers, Robin and Tori, are consistently friendly, caring, helpful, and genuine. They are most excellent hosts and the food, well if this were a restaurant it would be packed everyday. The breakfast has many choices and it is all made from scratch and locally sourced. I truly believe their cooking should be written up in a foodie magazine, if it hasn't already. The coffee is a special roast from one of the best local coffee roasters/cafe and it is quite tasty. I have never been disappointed and am always satisfied with how consistently wonderful this inn and it's hosts treat me and the other guests to a dish of warm hospitality."
– Troy
"Great stay with terrific innkeepers!"
"The James Place Inn is the perfect B&B to stay at while visiting the area. There are 7 beautiful rooms to choose from (some of which include a fireplace or a jacuzzi). The inn is located on a quiet street right off Main St., which makes for an easy trip to and from the local stores and restaurants. The innkeepers (Toni and Robin) are a wealth of knowledge when it comes to suggestions about things to do in the area. Robin prepares a great breakfast for you every morning that will keep you fueled through whatever adventure you choose to embark on. I can not say enough to explain how GREAT this B&B is!"
– Charles S.
"Perfection!!!"
"We stayed at the inn for our first time and are sure to be returning visitors! The hospitality was amazing, the location could not have been better and our room (the yellow room) was tastefully decorated, comfortable and roomy. The breakfast was delicious and the innkeeper's knowledge of the area and recommendations for local restaurants came in great handy. The inn is just a very short walk to all area attractions. From the minute we checked in till the time that we left, we went everywhere by foot. Freeport is a beautiful place and a winter snowstorm made it that much more "picture perfect". Can't wait to return for our next trip!"
– Danielle T.
"The Best!"
"Just spent my 10th year at the inn at holiday time. The innkeepers are like family always swapping stories over morning coffee. Great breakfast! Quiet little sidestreet yet close enough to stores and restaurants that once we park we are never in our car until we have to leave. Definitely the best in Freeport."
– Guy G
We're so proud of these reviews, and so thankful to our kind guests that took the time to say so many nice things. We hope you'll come visit with us soon, and see for yourself why we're rated the #1 Freeport Maine bed and breakfast!